Counting down to Christmas, I am not ready! What about you?
What a "surprised" this morning when I opened my email. And by the way, morning to me is already lunch time in the East Coast, since I live in the Pacific Time zone. Anyhow, I received a Congrats that Blogger Broadcast is the Spotlight blog for December 15th, 2010 from Melissa, Kristin & Jaime.
It's great to be spotlighted you know...Thank you ladies, I am really happy, you've made my day.
Have you linked up to Wednesday Welcome? Grab the badge and join in on the fun. They won't bite.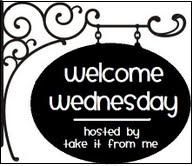 Also linking to Its Hump Day.